Mr. Al-Saleh, everyone is talking about the 5G-Auction in Germany. Why is the 5G technology so critical for IoT?
While machine to machine communication has been around for decades, today IoT is evolving due to the number of devices, the amount and speed of transmitted data, and the integration of machine learning into the devices. 5G is designed to support this and will enable the development of digitization in society and industries.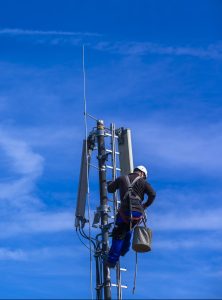 Is 5G expanding at a fast-enough rate in Germany especially in comparison to the US?
With the exception of South Korea, almost all countries are on the same level. Our goal is to make Germany a 5G lead market. That's why we have set up an eight-point program to accelerate expansion. By 2025, we will cover around 99 percent of the population and 90 percent of the country with 5G. The ongoing frequency auction will set the course for the 5G expansion in Germany.
T-Systems is heavily focusing on industrial intelligence. Why is edge computing such an integral part of that technology?
In the very near future we will see an enormous increase of data produced by sensors in machines and products. The challenge is to generate something useful out of these data. But that does not necessarily mean you have to transfer these data to a central data center. Very often it makes more sense to analyze them close to where they are collected and only send the results to your data center for further processing. For a car manufacturer we literally moved computing power to the edge of the world, to their testing site north of the polar circle. The cars tested there produce loads of data which are processed directly at the site. Only the relevant results are sent to headquarters where engineers decide how to adapt the production process of the car.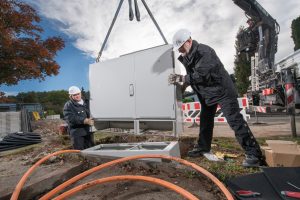 What exactly does 'campus network' mean? How does it work and is there a high demand for it?
We see a campus network as a combination of a public mobile network and a private network. These networks cover together a specific company site, a university or an individual building. The private network capacity can only be accessed from inside by the customer at any time. Another important characteristic of a campus network is that it allows machines to communicate with one another or with a data center without delays (low latency). Thanks to the low latency, even vehicles can move across company premises autonomously using sensors. The demand for Campus Networks will definitely grow in the next years.
Do you think the German Mittelstand companies should adapt faster to the digital transformation?
Depending on the business an early adopter may have many advantages. As a simple example let me mention the medium-sized glass manufacturer GlasGo. In the past, everything in production and logistic was handled manually. With the installed temperature sensors, tracking modules and the central monitoring console the company saves lots of money. They decreased the waste of lacquers and glasses. In addition, automation reduces energy consumption. The system indicates when ovens, compressors for spray guns, and belt drives are idling. Employees can then decide whether or not to turn off the device.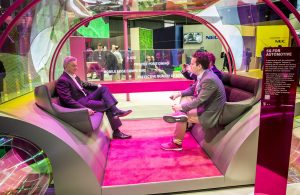 In which way do you use AI in your products?
Question no. 1 is: How does AI help to increase the performance of our client's business? If AI makes sense and the customer is convinced, we use it in our solutions. One very catchy scenario is predictive maintenance. Think of a production line with expensive machines and robots. We train an AI to identify up-coming failures resulting in down-times because of wear and tear and to alert the production line manager. He can than schedule an earlier maintenance and prevent the down-time. We already have a system like this in operation. We use the results to constantly increase the quality of the solution.
The security operation center (SOC) in Bonn deals with the millions of attacks on your customers every day. Could you lay out roughly how your security experts fight those cyber-attacks?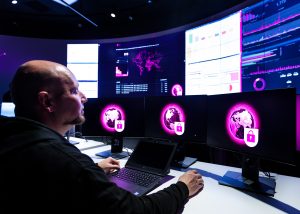 The things you do to protect yourself or customers against cyberattacks are sort of like the things you do to drive safely: make sure your "car" is up to date on its safety inspections and keep your eyes on the "road" and on the "traffic situation". In addition to emphasizing such good preventive strategies, we also give high priority to smart analysis. 240 experts fend off attacks in the SOCs around the clock. They analyze what hackers intend to do or are capable of doing and investigate their tactics (threat intelligence). IT forensics are also involved in criminal activities. They reconstruct attacks and secure evidence. With all the information gained Telekom improves its own technology for cyber defense. Important data is also provided by the 2,500 honeypots installed worldwide. The SOC is one of the largest and most modern defense centers in Europe.
In which ways did the business models change in your company in the past five years and how will they have changed in the next five years?
T-Systems is currently undergoing a comprehensive transformation towards a digital service provider. In addition to infrastructures and connectivity-based products and services, the focus is on growth areas such as cloud, IoT, digital solutions and security. Our clients appreciate the breadth of our portfolio because they get practically everything they need for digitization in their business today from T-Systems. A new set up of the company according to portfolio creates the best customer experiences. Furthermore, with a new, integrated sales organization for our entire range of products and services, we place our clients at the center of our business. Organizing ourselves in a more agile and flexible structure, is part of the initiatives we are driving to simplify our business.
Adel Al-Saleh